Art of Musica: an exhibition of violins, cedar musical artifacts and musically inspired art. July 29 - 30, 2017.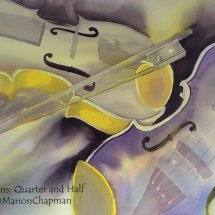 Location: Marion Chapman Studio, 7 Crystal St, Sylvania. Enquiries: Marion Chapman 0411 665 443
Marion Chapman Winner Printmaking Prize Oyster Bay Art & Craft Festival
Marion Chapman Winner Watercolour Prize, John Upton Watercolour Prize at St George Art Society
Marion Chapman on Youtube - Bespoke Paintings by Marion Chapman
Marion Chapman on YouTube
Watercolour brushes: hake, mop, dagger and flat edge
Marion Chapman on YouTube - Speed painting watercolour
Marion Chapman, Finalist, Fleurieu Food & Wine Art Prize
Woo-hoo! Very excited to be a finalist in this prize!!
Fleurieu Food & Wine Art Prize
Delighted to have been part of this Cancer Council Fundraiser.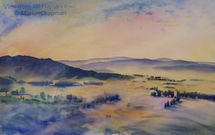 ...more
Marion's work in the Gippsland Print Award 2015
Image courtesy Gippsland Art Gallery, photographer Lindsay Roberts.
Marion Chapman, Exhibition, Hunters Hill Art Gallery 28 Sept - 4 Oct 2015
"
The Butterfly Effect
" is an exhibition featuring works on paper - watercolour and printmaking. Marion's watercolours feature layer upon layer of watercolour glazing to give luminosity.
Marion Chapman's works available at Hazelhurst Regional Gallery shop
Marion Chapman's Balmain exhibition 3 - 7 December, 2014
Butterflies, Beaches & Boats is my next exhibition. Opening night drinks 5 December, 2014. Balmain Watch House, 179 Darling St, Balmain. Butterflies by Marion, Beaches by Jan Schuster-Callus and Boats by Jackie Sherwood.
Finalist, Hurstville City Museum and Gallery, 2014
So chuffed to be a finalist in this great art prize.
Winner 'Best in Show' Goulburn Show
Marion Chapman won 'Best in Show' Art section, Goulburn Show. Marion entered the Goulburn Show whilst being artist in residence at South Hill Gallery, Goulburn
Marion Chapman, Winner, Abstract section with "Abstract Lepidotera", Watercolour
...more
Two of Marion's works have been featured in Painters Academic!
...more
View Marion's art at Camden Fine Art Gallery in December.
...more
Marion's will exhibit with St George Art Society, Kogarah. 1, 2, 3 November, 2013
...more
Sydney Morning Herald, 1 March, 2012
...more